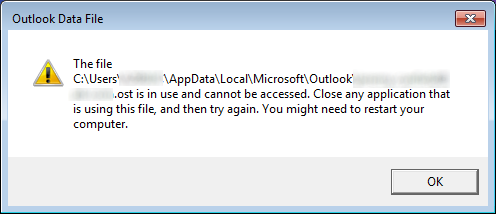 Disable Cached Exchange Mode
Close Outlook.
Select the Windows Start icon > Control Panel.
Select Mail.
Select Email Accounts.
Select the Email tab.
Highlight the email address giving you the warning (email.ost), then select Change.
Either tick or remove the tick from Use Cached Exchanged Mode.
Select Next.
Select Finish.
End all Outlook related processes
Right-click the task bar and select "Task Manager", or press CTRL + ALT + Delete, then choose "Task Manager".
Select the "Processes" tab.
Look for anything named "Communicator", "Lync", "ucmapi" or "Outlook". If you find any items related to these, select it, then select the "End task" button.