In the Introscope investigator, select the Metric Browser tab.
Expand SuperDomain > server_hostname > server_type > your_jvm > GC Heap.
By default, Introscope will display data for the last 8 minutes, and update about once every 30 seconds. Typically, you will toggle off Live monitoring, and then select a time range, such as 15 minutes, 1 hour, or 1 day.
In this example, there is clearly a memory leak. The minimum bytes in use gradually increases. A steady incline is a visual representation of a garbage collector inability to remove some of the objects from the heap. Given enough time, a memory leak will cause all of the heap space to be used, causing an out of memory situation. A memory leak means there is some issue with the code of an application, and a code change will be needed to resolve the memory leak. For example, one possibility is that the code is constantly putting very large PDF files into the heap.
When the minimum heap space reaches the total available heap space, the JVM will run out of heap space, and an out of memory java heap space event should appear in the JVM logs.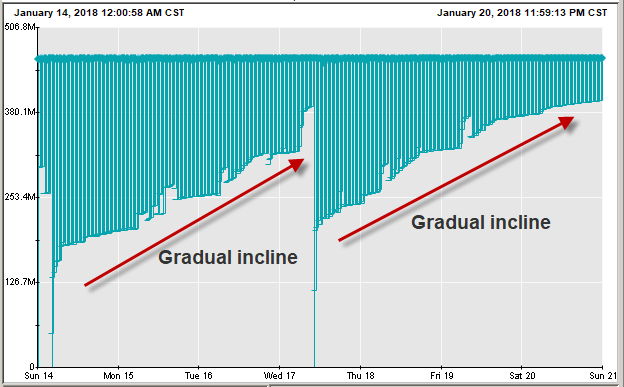 On the other hand, this example shows good heap utilization. After the JVM was restarted, there was some activity and eventually the heap reached a steady state.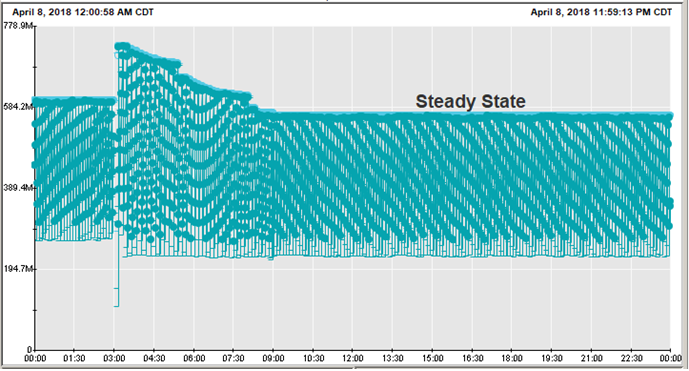 ---
Correlate the memory leak to an app
If there is a memory leak, and a single app running in the JVM, you know what app has the code that is producing the memory leak. On the other hand, if there are numerous apps running in the JVM, you will want to determine what app is associated with the memory leak. To determine this, if you have a heap visualizer tool, use the visualizer tool to determine when the memory leak started. Then, find the app the was deployed to the JVM just before the memory leak started, which can be done by checking the JVM logs (eg. SystemOut.log for WebSphere, catalina.out log for Tomcat). In this example, the app that was deployed to the JVM on May 4 near 3:00 pm would be the app associated with the memory leak.