If you are not familiar with wsadmin.sh (Linux) / wsadmin.bat (Windows), check out our Getting Started article.
By default, the wsadmin.properties file is configured to use SOAP, like this.

com.ibm.ws.scripting.connectionType=SOAP
Additionally, wsadmin.properties defines the SOAP port that will be used, which is 8879 by default.

com.ibm.ws.scripting.port=8879
You can get the SOAP port in the dmgr admin console, at System administration > Deployment manager > Ports.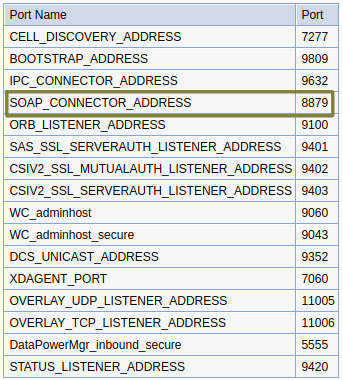 You can use the -conntype option to spectify the type of connection you would like to make, like this:

wsadmin.sh -conntype NONE
wsadmin.sh -conntype SOAP
wsadmin.sh -conntype RMI
wsadmin.sh -conntype IPC
wsadmin.sh -conntype JSR160RMI
-conntype NONE is used to run in local mode, which means that wsadmin does not connect to any server processes. In this way, wsadmin can be used even if a server is not running. This is useful if you want to, say, install software on a server that is not running.