The following article are my notes on how I got BUTT to work on Linux Mint. If you are using any other Debian family Linux distribution, such as Debian or Ubuntu, use this article as a sort of general guideline, as the procedure may be different on other Debian family distributions. However, this should totally work on Linux Mint. If you are using a Red Hat family distribution, such as Red Hat or CentOS, this installation procedure is going to be quite a bit different, since Red Hat distributions use yum instead of apt-get. I tend to leans towards using a Debian family Linux distributions for pro audio services, since the Debian family of distributions seem to have greater support and user base for pro audio than the Red Hat family of Linux distributions. I would go with a Red Hat distribution for server side service, such as a web server.
BUTT needs a number of dependencies. If your system does not have these packages, install the packages. If possible, issues these commands as root or using sudo to prevent authorization issues.

apt-get install libfltk1.3-dev
apt-get install libportaudio-dev
apt-get install libvorbis-dev
apt-get install libogg-dev
apt-get install libopus-dev
apt-get install libflac-dev
apt-get install libsamplerate-dev
apt-get install libmp3lame-dev
apt-get install libfdk-aac-dev
apt-get install build-essentials
apt-get install gcc
apt-get install gcc-c++
apt-get install portaudio19-dev
apt-get install libasound2 
apt-get install alsa-utils 
apt-get install alsa-oss
apt-get install jackd2
BUTT needs version 19 of portaudio. apt-get may not install version 19. Determine the version of portaudio on your system.

apt-show-versions libportaudio-dev
If you have a prior version of portaudio installed, remove portaudio.

apt-get remove libportaudio-dev
Go to http://www.portaudio.com/download.html and downloaded version 19. Extract the contents of the archive.

tar -zxvf pa_stable-version.tzg
Once extracted, you should have a directory named portaudio. In the portaudio directory, run the configure script.

cd portaudio
./configure
Once configured, make and then install portaudio.

make
make install
After all the BUTT dependencies have been installed, at the sourceforge page for BUTT, download the Source Code (tar.gz) file. This will put the butt_<version>.tar.gz file in /home/user/downloads. Extract the BUTT archive. This will create a directory named butt-version.

tar -xzvf butt-<version>.tar.gz
Enter the butt-version directory, and configure butt.

cd butt-version
./configure
Make and install butt.

make
make install

You should now be able to launch the graphical BUTT user interface by issuing the BUTT command.

butt
At Main Tab > Server, you can configure a Shoutcast or Icecast server. If setting up an Icecast server, enter the IP address, port, and password of your Icecast server, which you can get from your icecast.xml file. This assume you have already installed and configured an Icecast server.
While probably not neseccary for initial startup, it's usually a good idea to set your preferred bit and sample rates.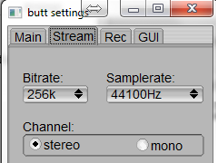 Always SAVE SETTINGS after you make a change.