When first installing Linux, if you installed a minimal text-only environment, follow the instructions in the article on how to install a graphical desktop on Linux. Without X Server, only the command line interface can be used (runlevel 1).
If you installed a graphical environment, the X Server and Xorg should already be installed. The X Server manages the display hardware to provide a graphical interface. To use X applications, install the Xorg X11 apps package.

[root@server1 ~]# yum install xorg-x11-apps.x86_64
To ensure an X application works properly, attempt to start xeyes.

[root@server1 ~]# xeyes
If the xeyes application appears, this confirms that the X Window System is able to display X applications.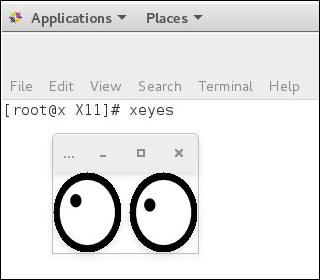 Once you are able to display X application on the X server itself, you will next most likely want to attempt to display X application from another machine in the network.
Click here to make a remote connection to an X Server using PuTTY from a Linux client
Click here to make a remote connection to an X Server using PuTTY from a Windows client