Introscope - Determine Version
---

---
When you want to determine the version of Introscope, it's first important to keep in mind that there are various pieces that make up Introscope. Generally speaking, the main players are:
The Manager of Manager (MoM) server
The Collector servers
The Agent (such as agent.jar) that is used to monitor an application server
Workstation (Java client application installed on a users PC)
Web Start (the web browser varition of workstation)
---
Manager of Manager (MoM) version
If the MoM is running on a Linux distribution, the following command can be used to get the version from the IntroscopeEnterpriseManager.log file.

grep Build /opt/wily/Introscope/wily/logs/IntroscopeEnterpriseManager.log

Which should return something like this.

9/06/20 12:20:48 AM CDT [INFO] [Manager] Introscope Enterprise Manager Release 10.5.2.52 (Build 991603)
---
Agent version
On each agent (typically JVMs being monitored by Introscope), the following file will control how the agents are configured.

/path/to/IntroscopeAgent.profile
In the IntroscopeAgent.profile file, there are two main agent log files, autoprobe.log and IntroscopeAgent.log.

introscope.autoprobe.logfile=/path/to/autoprobe.log

log4j.appender.logfile.File=/path/to/IntroscopeAgent.log
The autoprobe.log file will contain the version, something like this.

# CA Wily Introscope(R) Version 10.5.2.52 Build 991603
---
Workstation version
In Workstation, select Help > About CA Introscope Workstation, and a pop-up box with the version of Workstation will be displayed.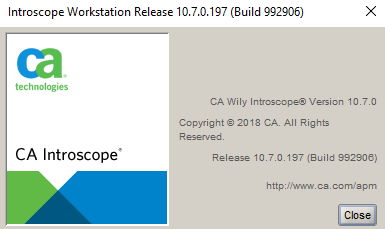 ---
Did you find this article helpful?
If so, consider buying me a coffee over at

---
Comments
Add a Comment