One way to serve a Tomcat application is to have clients request the application directly from the Tomcat server.

In this example, the client requests www.example.com:8080/sample direct from Tomcat, and then Tomcat sends the application to the client.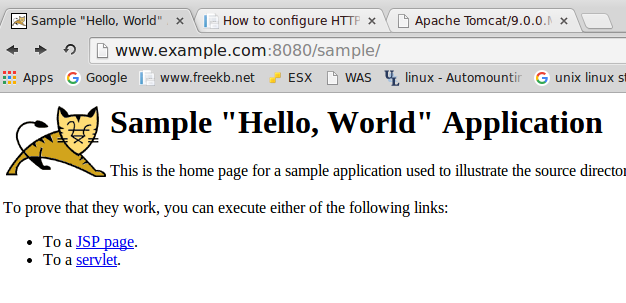 A web server can be configured as a proxy server, so that the clients will request the Tomcat application from the web server, and then the web server will get the application from Tomcat, and the web server will send the Tomcat application to the client.

As an example, if the webserver is HTTPD, you would add the following markup to the server.xml file.

<Connector port="8009" enableLookups="false" redirectPort="8443" protocol="AJP/1.3" />
Assuming HTTPD is configured to use virtual hosts, add Proxy and ProxyPass to the /etc/httpd/sites-enabled/vhosts.conf file.

<VirtualHost *:80>
   ServerName www.example.com
   DocumentRoot "/var/www/site1"
 
   <Proxy *>
     AddDefaultCharset Off
     Order deny,allow
     Allow from all
   </Proxy>
 
   ProxyPass / http://www.example.com:8080/
   ProxyPassReverse / http://www.example.com:8080/

</VirtualHost>
Now, the Tomcat application can be produced by navigating to www.example.com/sample.