To enable or disable RFH version 2 headers.
In the WebSphere admin console, expand Resources > JMS.
Select Queues.
Select the Queue.
Select Advanced properties.
Check Append RFH version 2 headers to messages sent to this destination and select OK.
Select Save.
Restart the application server for the change to take effect.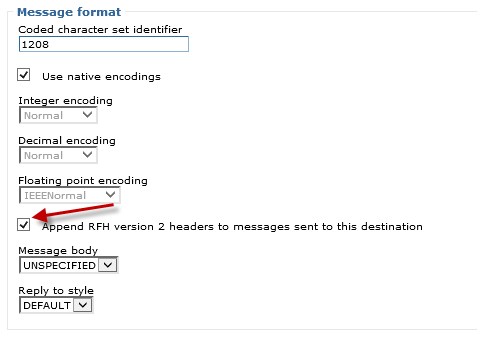 After the application server has been restarted, ensure the SystemOut.log contains "open for e-business" and "Binding queue_name as jms/mq/queue/queue_name" to ensure the application server is up and running and that the queue was bound.

~]# cat SystemOut.log | grep e-business
[1/2/18 23:53:37:086 CST] 00000001 WsServerImpl A WSVR0001I: Server JVM_name open for e-business

~]# cat SystemOut.log | grep queue
[1/2/18 23:53:37:086 CST] 00000001 ResourceMgrIm I WSVR0049I: Binding exampleQueue as jms/mq/queue/exampleQueue