Authenticaiton in WebSphere is a fairly broad topic. However, when just getting started, Authentication can be broken into two categories.
The authentication protocol being used
The user accounts repository being used
Both of these features can be viewed at in the WebSphere web console at Security > Global security. Lightweight Third Party Authentication (LTPA) is the default authentication protocol that is used.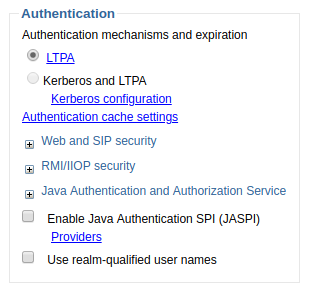 Local operating system is the default user account repository that is used. This can be updated so that LDAP, federated repository, or database are used as the user account repository.