In the left panel of the WebSphere admin console, select Servers > Server Types > WebSphere application servers.
Select the application server that will write verbose garbage collection events to the native_stderr.log.
Expand Java and Process Management and select Process definition.
Select Java Virtual Machine.
Check Verbose Garbage Collection.
Select OK.
Select Save.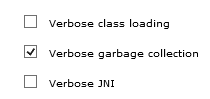 Restart the application server for this change to take effect.