If you are not familiar with security domains, check out our getting started article. This assumes you've created a security domain.
In the WebSphere admin console, expand Security and select Security domains.
Select the security domain you want to customize.
In the Security Attribues section, expand the attribute that you want to customize, and select your preferred setting.
Refer to this article for details on what each security attribute does. Global security will be used for the attributes that are not configured.
As a simple example, the default Lightweight Third Party Authentication (LTPA) timeout is 120 minutes, thus all users LTPA token will timeout after 120 minutes.

This can be overriden in a security domain. In this example, the security domain LTPA timeout is set to 15 minutes.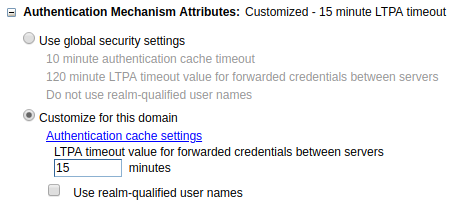 Next you will typically assign the security domain to a cell, node, cluster, or application server. In this example, the cell, node, clusters, or application server that are assigned to the security domain with the LTPA timeout of 15 minutes will use the 15 minute timeout instead of the 120 timeout defined in Global Security.